INDIVIDUAL DEVELOPMENT
What do our partners expect from a development?
In our experience, clients highly value active, practical, immediately usable knowledge. Thus, in the course of our developments, we strive to provide participants with tangible, immediately applicable knowledge. Many of our trainings include acting situations out with actors, where actual work situations of participants are processed in situational exercises, so they return to everyday life with real solutions, ideas, and tools.
HOW DO WE DEVELOP LEADERS?
Leadership development process involves the establishment of leadership awareness, the development of leadership skills, and sinsitizing to leadership responsibility. The goal is not only to expand the management toolbox, but also to solve your own personal leadership problems and difficulties.
PROCESS - BASED DEVELOPMENT
We consider it to be the most important that leadership development should be a process. Since tehe role of a leader has many dimensions and depths, more training sessions are needed to achieve optimal leadership performance.
First of all, we assess leadership skills and after that we plan the development process based on the areas that should be improved. Between training sessions, we support leaders with individual coaching, case discussions, and practical challenges to integrate the tools learned in real life situations.
To operate successfully, managers must be able to manage their employees as well in a virtual and hybrid environment as if each member of the team were working in person, in one space.
CURRENT CHALLENGES: Leading online and hybrid teams
We support professional virtual leadership with the following trainings
Maintaining managerial control and trust
Motivating individuals and teams in cyberspace
Delegation of tasks and adherence to deadlines
Maintaining team cohesion, virtual onboarding
Performance management and performance evaluation
ACTING OUT LEADERSHIP SITUATIONS WITH ACTORS
We apply the principle of experiential learning in the leadership development trainings conducted by Valoro's consultants. Using our self-developed methodology, we model leadership situations with the help of actors. This method helps to effectively deepen practical leadership skills. (see ACT methodology)
WHAT ARE THE RESULTS OF LEADERSHIP DEVELOPMENT?

A competent leader treats their co-workers better which helps in retaining them.

In the long run, leadership roles can expand so besides day-to-day operational tasks, there is also time for strategic issues, employee motivation and development.

In addition to being an effective leader, team performance increases and the atmosphere improves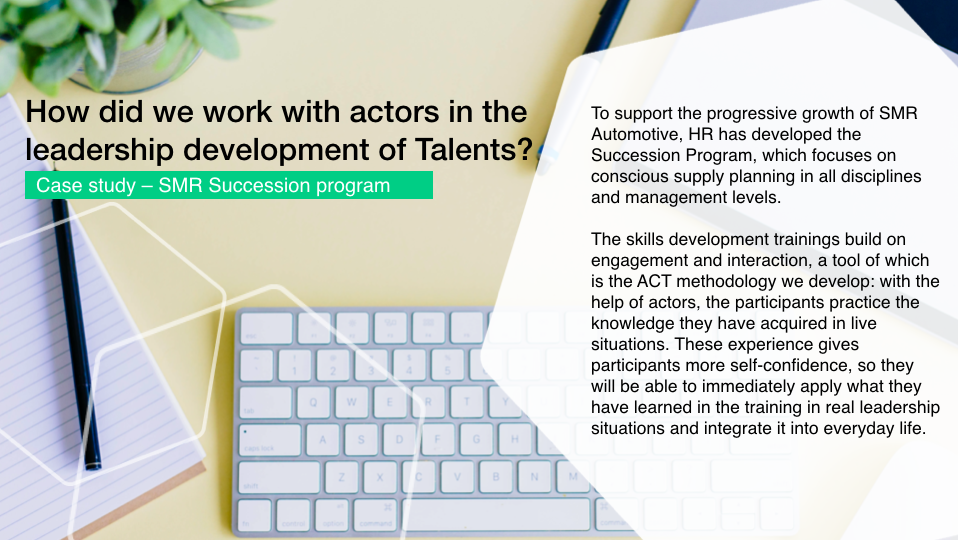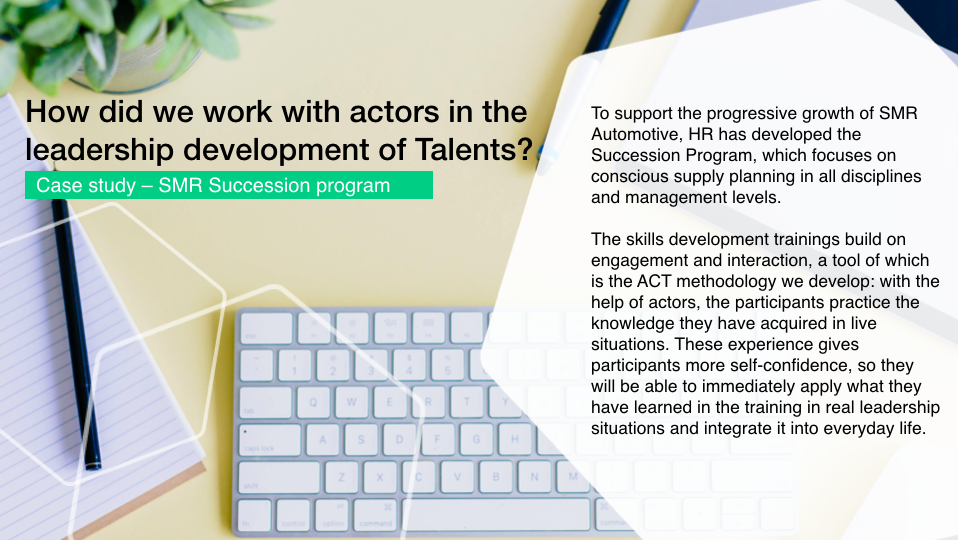 Are you intereste in our leadership development approach? Are your leaders facing challenges?